CAN YOU SEE THE FUTURE?
Sustainability at COS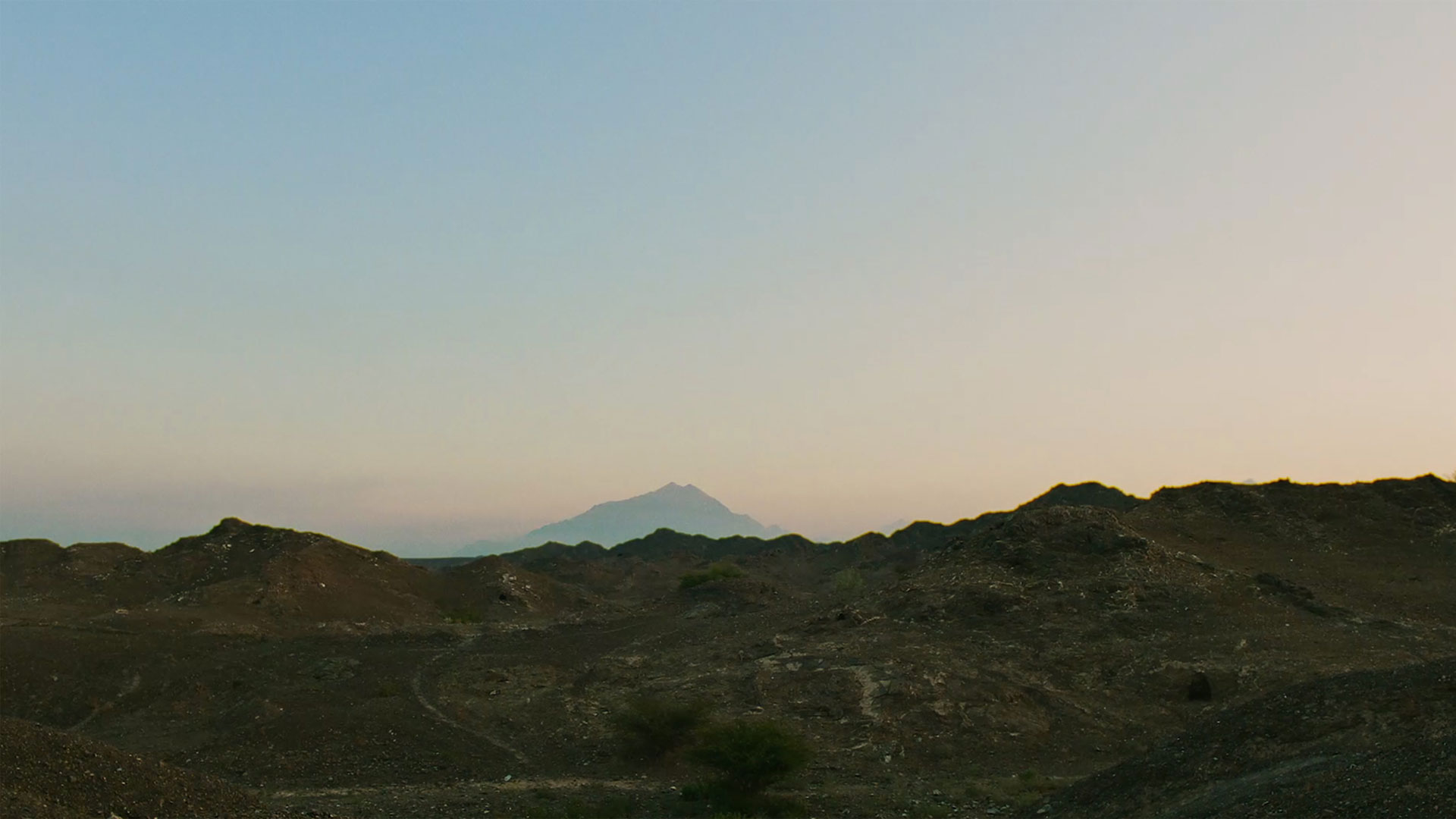 In 2020, 76% of the materials in our collection were sustainably sourced.
We've already exceeded that in 2021: with 86% so far. Our goal? To become a climate positive brand, with 100% sustainably sourced or recycled materials.
Since the beginning, our design ethos has put enduring style and quality first. We believe that our choices, our wardrobes and our lives can do more with less.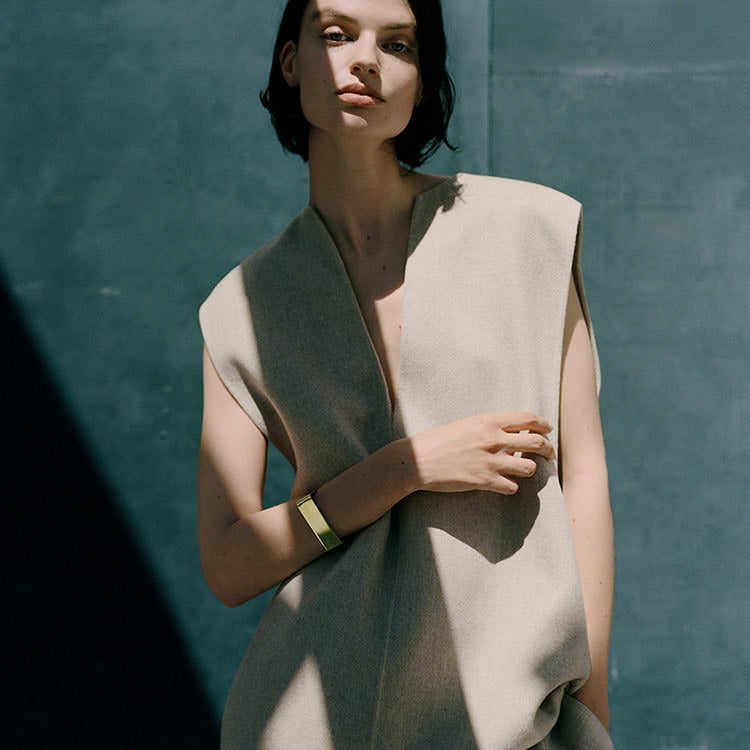 We are committed to sourcing quality materials that will have less impact on the environment. But it's not just the fabrics and trims that make a product sustainable, it's working to ensure that the processes we use are kind to the planet too. At COS, this is what we call our environmental responsibility.
Sustainability is not just about taking actions to minimise our environmental impact. We also focus on our ethical standards as a business, and our commitment towards the many people and communities who make our products. We refer to this as our social responsibility and believe that the strong relationships we have built with our global suppliers are at the heart of delivering on our goals and standards in this area.
---
Environmental responsibility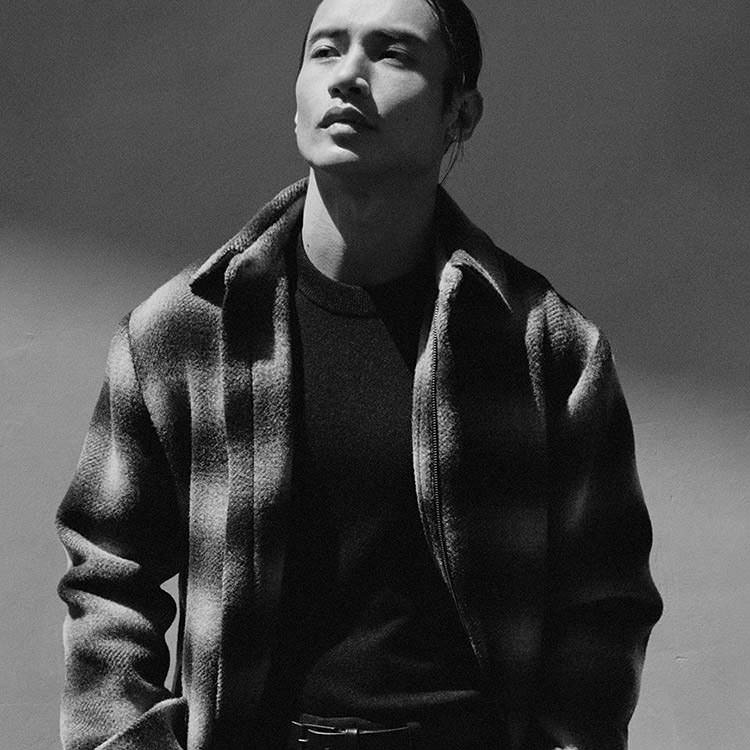 Organic
The organic materials we use at COS are grown from organic seeds, which have not been genetically modified in any way. The cultivation process requires no synthetic fertilisers, protecting both our planet and its people.
We're also exploring new technologies and production methods like regenerative organic farming that prioritises restoring soil health to help fight climate change or processes that use less water.
2020: 17.4% organic materials in total
2021: 39.3% so far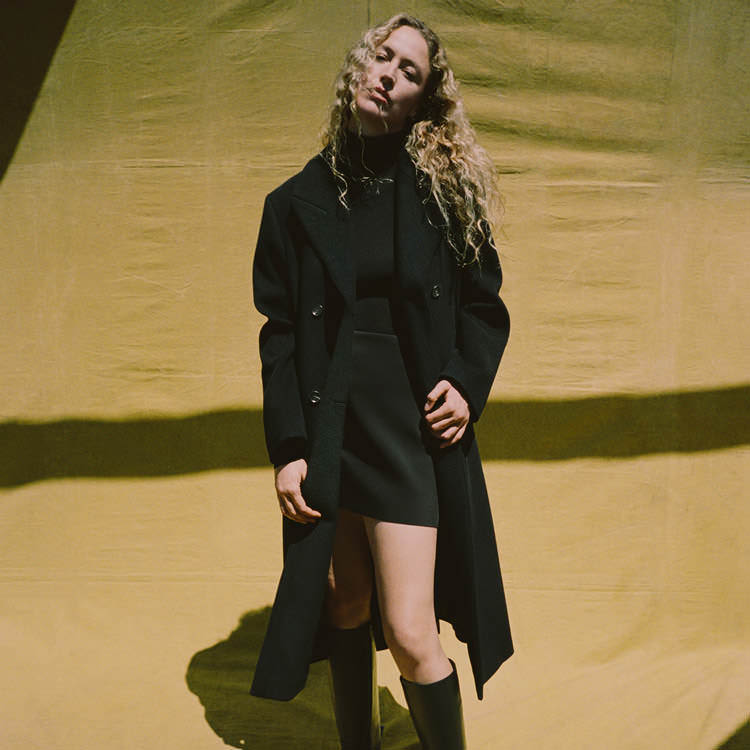 Responsible
At COS, responsibly sourced materials cover three areas: the environment, animal welfare and social responsibility. We partner with independent certification programs to bring you ethical and responsibly sourced materials that are fully traceable.
We're also exploring new technologies and production methods like regenerative organic farming that prioritises restoring soil health to help fight climate change or processes that use less water.
2020: 54.7% responsible materials in total
2021: 41.7% so far and well on the way to
surpassing last year's figures by the end of 2021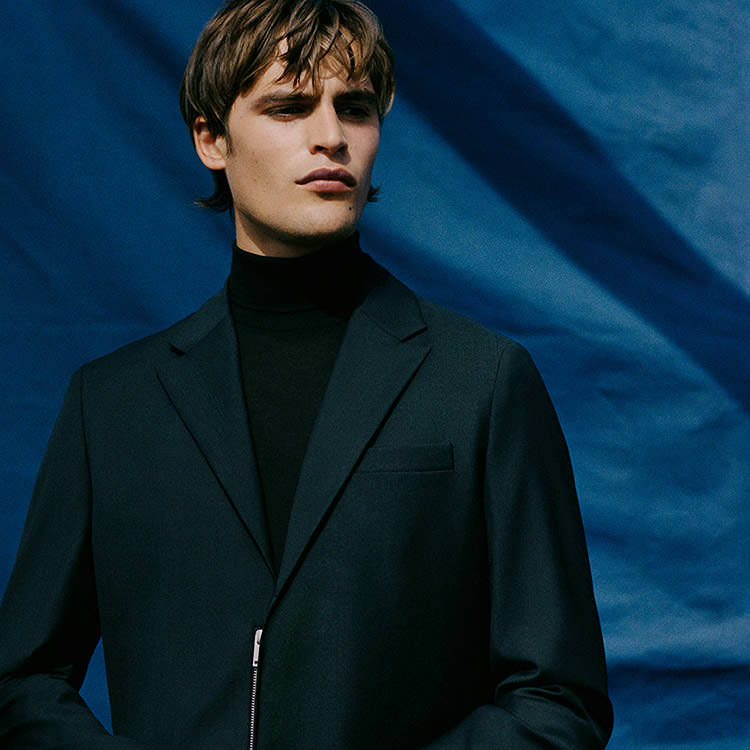 Recycled and repurposed
Recycled cotton, wool, polyester and nylon reduce our demand on limited natural resources, using less energy and fewer chemicals.
We also gather our own cutting waste and excess material, recycling it to make new repurposed pieces from the cotton, wool and cashmere in our collections.
Due to the complexity of the repurposing process, there aren't many brands of our size doing this. There's lots more we can do but we're proud to be leading the way.
We seek out new production methods and innovative ways to bring a higher and higher proportion of recycled fibres into our compositions and retain the high-quality feel you love. We aim to source 30% recycled materials by 2025.
2020: 4.4% recycled and repurposed materials in total
2021: 5.9% so far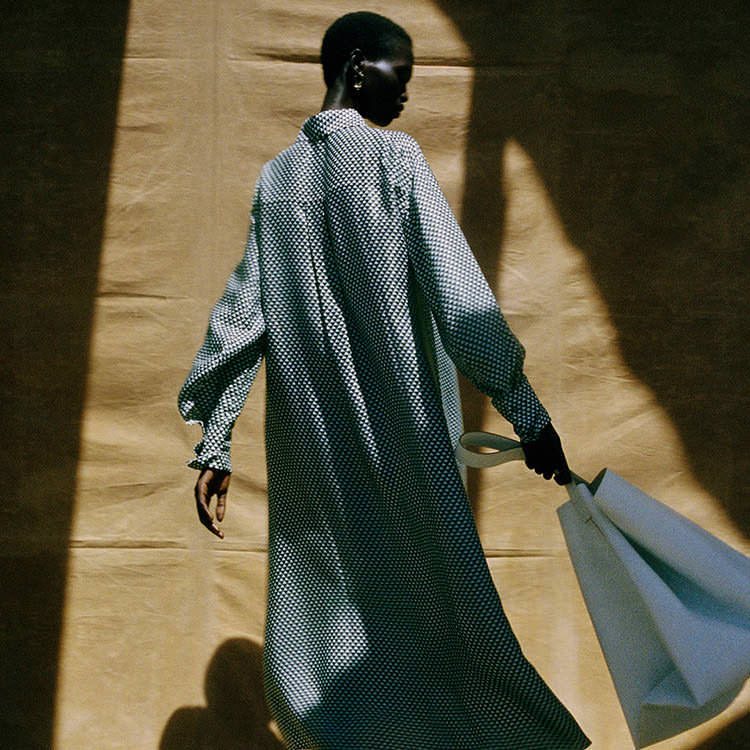 Conventional
We believe every piece should have a long lifespan. In order to ensure the materials in our collections meet our high-quality standards, we use conventional fabrics like leather and silk, whilst constantly searching for better alternatives and pushing the industry to improve.
We have converted most of the synthetics we use into recycled alternatives and are making the transition to organic silk as well. By autumn 2021, we're aiming for all our leather to be chrome-free: a cleaner tanning method.
2020: 23.5% materials in total
2021: 13.1% so far – we hope to reduce this even more
Our packaging
We're redesigning our packaging right now to incorporate more sustainable and fully recyclable materials. Our number one priority is reducing the volume of materials used, and we've already significantly decreased the amount of COS packaging you receive with each order.
We have set goals to reduce the amount of plastic packaging we use to protect our garments during transportation, and are increasing our share of re-usable, recyclable and compostable packaging too. We have trialled replacing plastic bags with reusable fabric bags in our supplier value chain and it is our priority to scale-up these initiatives.
We aim to achieve 100% recycled, reusable or compostable packaging by 2025.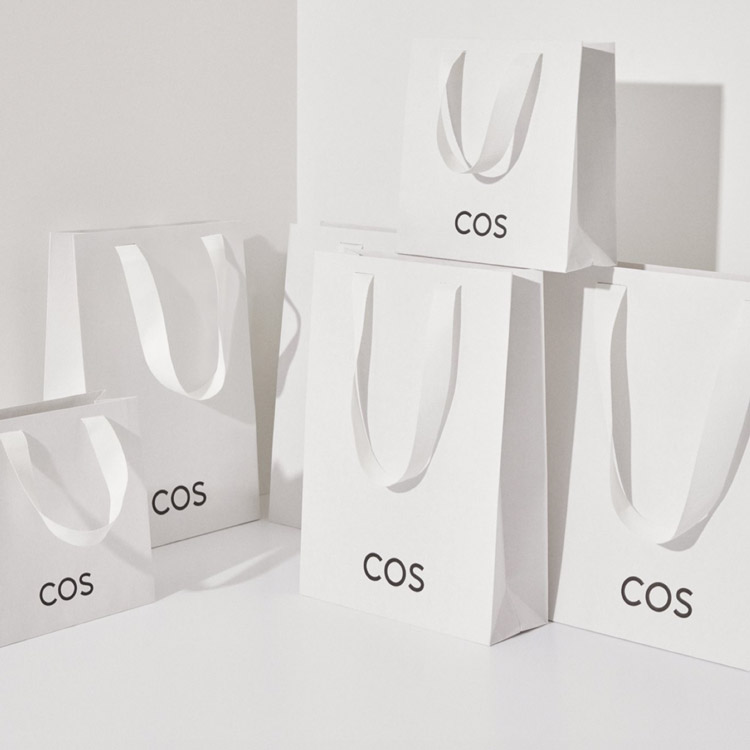 Sustainably sourced fibres and materials explained
There are all kinds of fabrics in our collection that are more sustainably sourced, and we highlight these so you can make considered choices when you shop.
To qualify as a more 'sustainable fabric' a garment must be made from at least 50% more sustainable fibres – but our clothes often contain even higher percentages! Recycled and repurposed fibres are the only exception to this rule, so we can make sure the overall quality of the fabric meets our standards. 
We're always seeking out new innovations and production methods to reduce our footprint on the environment too. 
Repurposed cotton is a type of recycled cotton, made from excess fabric from our own COS production and cutting waste from our suppliers that meets our quality standards. A step towards zero waste, repurposing cotton allows us to take responsibility for any unused material, and prevents it from ending up in landfills. Giving a new life for leftover fabrics is one of the most pioneering things we're doing right now – and it's something we hope to scale up even more in the future.
ReDown® is a planet-friendly form of down padding that we use in our outerwear and accessories. It acts as a highly effective insulator when worn in cooler climates and can be made from all sorts, from pre-loved clothing to bedding and sleeping bags. The fibres are cleaned using sustainable production methods too, including solar energy and water recycling – where wastewater is turned into clean drinking water.
The Responsible Down Standard is a worldwide organisation that protects the wellbeing of animals in the process of making down padding. Using RDS-certified down is a more ethical way of creating the warm padded linings for coats and accessories that we all know – and love – during the cooler months.
Recycled cotton is made by converting both pre and post-consumer fabric into fibres that are then spun into new yarn. Pre-consumer waste comes from material by-products while post-consumer includes repurposed garments, upholstery and more.
We also source cotton sourced through BCI, a non-profit organisation that helps cotton growers to embrace environmentally friendlier, and socially and economically sustainable farming methods. The BCI uses a mass-balance system, where BCI cotton is mixed with other types of cotton on its journey from the field to the final product.
Big on comfort, low on waste. By recycling cashmere from production lines and used clothing, we can create completely new garments without wasting this precious material. To ensure long-lasting quality, recycled yarns need to be mixed with high-quality fibres – which there are no shortage of here at COS.
We're proud partners of the Good Cashmere Standard by the Aid by Trade Foundation (AbTF) – working to source traceable, sustainably certified cashmere that cares for the wellbeing of cashmere goats, protects the environment and supports the herders that produce it.
Introducing a more sustainable side to softness. This smooth and silky fabric is formed from natural beech wood using a process that's self-sufficient in energy. Plus, it retains its strength wash after wash – now that's what we call future proof.
The hemp plant has been used in clothing for thousands of years – and for good reason. It produces a high amount of fibres in a way that benefits the environment its grown in. At COS, we like to use organic hemp made from seeds that have not been genetically modified – and created without the use of harmful chemicals or fertilisers.
This material is a COS favourite for two reasons: we can use it to create our sculptural jewellery collections and it can be recycled multiple times – and retain the properties we all admire. Our recycled brass is certified by the Global Recycle Standard (GRS) and Recycled Claim Standard (RCS).
Because the wool fibres we use are premium to start with, this means they can be respun to create a new fabric. If you start with low-quality fibres, it's much harder to ensure quality – which is why there aren't many brands our size doing this right now.
Repurposed cashmere is made using the excess from our own production process, which from 2022, will be certified too. This minimises the environmental impact and helps maximise the use of this precious material. Due to the complexity of the process, repurposing cashmere is not that common. We're proud to be leading the way and starting to close our production loop.
By using recycled nylon, we reduce our demand on limited natural resources and reduce greenhouse gas emissions from manufacturing. Recycled nylon can be sourced from pre‐consumer waste ‐ even things like fishing nets can be made into new clothes.
The recycled polyester in our collection is made from pre‐ and post‐consumer waste. It's much better than producing new polyester, which is derived from crude oil ‐ a non‐renewable and increasingly scarce resource. This fabric can also be recycled again and again!
Recycled polyester is known for its down-like properties, retaining heat, even when wet. Made from post-consumer waste, it provides a more sustainable, animal-friendly and down-free alternative to conventional padding.
Tencel™ is a brand of lyocell, and the only lyocell that is considered sustainable. This natural raw material comes from eucalyptus trees grown in FSC forests ‐ a certification which guarantees responsible felling and replanting of the trees. This wood is then processed in a closed loop process, meaning that 99% of all chemicals and water are recycled instead of being released out into the environment. The result: a beautiful material that's soft, breathable, washable and hangs elegantly on the body.
Cupro is a plant‐based material that you might not have heard of with incredible properties. It's made from cotton linter, which are the soft fibres on the plant that are not used and usually go to waste. It's 100% natural so the material is renewable and biodegradable, as well as soft, silky and breathable like cotton.
These days, organic cotton is a familiar fabric for most of us. It's grown from organic seeds, which have not been genetically modified in any way. The cultivation process requires no synthetic fertilisers and soil conservation is an important part.
Every piece of jewellery within our recycled silver collection has a story to tell. Our sterling silver earrings, necklaces and rings were made by recycling all kinds of objects. Coins, silverware and even old items of jewellery have all been remade to create new designs with a modern feel.
RWS wool is certified by the Responsible Wool Standard – to protect the welfare of the sheep, the environment they live in and the farmers who take care of them. The wool is ethically sourced, giving animals the freedom to live a happy, carefree life; and natural – with soft, breathable and biodegradable properties.
Yak wool comes from domestic yak animals, who feed from grass rather than grass root – which reduces their impact on the environment. Sourced from the highest plateau in the world – the Himalayan regions – our traceable yak wool provides transparency at every level of the supply chain.
Through a repeated heating, cooling and shaping process, broken glass is recycled to create a range of sculptural jewellery within our collection.
Crafted from scrap or post-consumer waste plastic from ex display stands, optical lenses, water bottles and industrial products, recycled plastic is melted and reformed into new shapes to create the pieces in our jewellery and sunglasses collections.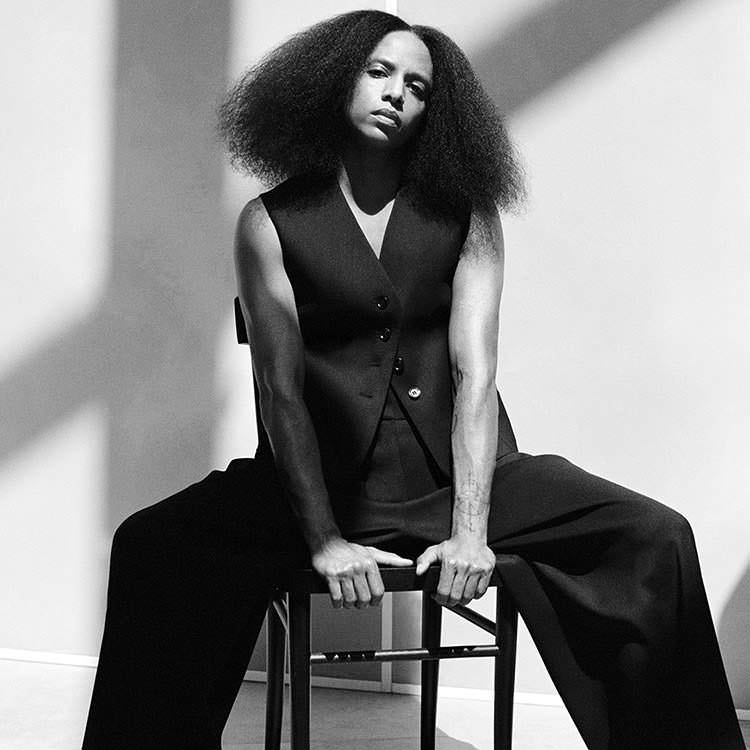 "Sourcing materials is hugely important, but to deliver meaningful impact we believe it is also essential to drive positive change in the communities we are a part of and throughout the product's lifecycle."
Francesca Lilley, Global Head of Sustainability
---
We're on a mission to become a fully transparent, responsible brand in all parts of our business – not only in our material production. We want every person we work with at COS on both a global and local level to experience a safe, fair and equal working environment.
Since we launched, we have been building and nurturing relationships with our suppliers and colleagues throughout the production chain – they are part of our COS family, and they share our values of quality, sustainability and innovation. We've been working with many of the same partners since 2007, from our denim specialists in Turkey and cotton growers in India to our manufacturers in Portugal, Romania and China. Working with such a diverse range of partners, whether that be small suppliers specialising in traditional techniques or larger-scale factories with a focus on new technologies, means we have a tremendous amount of shared expertise and passion to take on the future and its challenges together. We look forward to collaborating even more as we continue our journey to becoming a more sustainable brand.
---